District Programs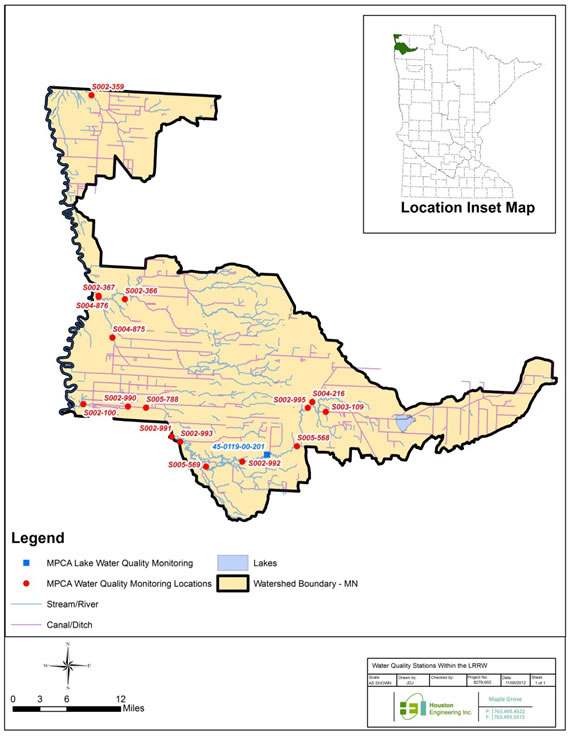 WATER QUALITY – "WRAPS"
Lower Red River WRAP
The District partnered with the Joe River Watershed District and the Middle Snake Tamarac Watershed District to undertake the "Lower Red River Watershed Restoration and Protection Project". This encompasses all of the Joe River, the Tamarac River watershed, and an unnamed coulee within the Two Rivers Watershed District (see map below).
Together the 3 watershed districts receive grant funding from the MN Pollution Control Agency. The project is aimed first at researching all of the water quality data available for a given watercourse, then if necessary additional water quality and stream flow data is collected to produce a 'conditions report' to get a full picture of the quality of the resource. The data is then analyzed to determine if any portions of the sub-watershed are impaired or polluted in any way. Then, if there are impairments, the project will do further investigation and research to determine the source of impairment and how best to address the problems, if possible. The process will take up to four years to complete.
The WRAP will enter it's fourth year in 2015. A conditions report was written, however it was apparent that there was not enough data available. Therefore, additional data was gathered in 2013 and 2014. Once sufficient data is available the conditions report will be modified and the WRAP process will continue. In addition geomorphology will be studied and the next steps will also include a stressor identification process. Once all of the reports have been completed public hearings will be held to gather input and strategies will be developed to restore and protect water quality within the watershed.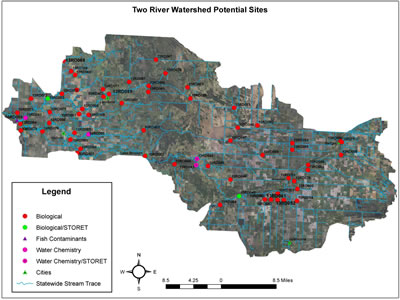 WATER QUALITY – "WRAPS"
Two Rivers WRAP
This WRAP was in its second year in 2014, and as such intensive monitoring is taking place for everything from water chemistry to fish assessments to macro invertebrates. The information gathered will be used to prepare a conditions report and begin to identify impairments that may exist. Future work for 2015 will be to determine specific reaches of river that are impaired, identification of stressors, and identification of potential practices to reduce pollution sources. Technical data collected will be analyzed by a professional judgement team and stressors will be inventoried and quantified. The WRAP will take up to 2 more years to complete.
GRANTS
Buffer Strips (Lake Bronson Upstream)
The TRWD is working with the Kittson Soil & Water Conservation District to address water quality concerns on Lake Bronson. The lake is subject to sediment and nutrient loading from a large upstream drainage area. Several legal drainage ditches are tributary to the lake, some are buffered and some are not. The SWCD received a grant from the BWSR to identify and buffer drainage ditches upstream of Lake Bronson to help reduce the sediment load. The TRWD is contributing funding to the grant.
Culvert Inventory:  Between 1998 and 2007, District staff worked to locate each and every culvert within the Watershed District.  In addition to location, the size, type, direction of flow, flow line elevation, and condition of each culvert was recorded.  The data collected is helping identify water flow patterns within the District and has been put into a computerized geographic information system to do long range planning and analysis.  
SNOW SURVEY:
Each year during the month of February or March, the District performs a snow survey at 10 sites within the District.  This survey consists of sampling the snow column and recording the depth of snow and the water content.  This information is vital to helping predict the amount of runoff that each area of the District will produce during the spring runoff.  The information is recorded and forwarded to the National Weather Service to be included in their database and used in their spring flood forecasts.
WATER QUALITY MONITORING:  
The District monitors water quality at 16 sites within the District.  These sites are established along the main branches of the Two River, along intermittent coulee systems, and along some ditch systems.  The purpose of the program is to monitor water quality to document what the base line conditions that are present in the water courses.  Parameters that are tested include pH, water temperature, dissolved oxygen, nitrogen, phosphorous, alkalinity, chloride, turbidity, conductivity, and various other indicators of water quality.
STREAM FLOW MONITORING
Twenty-eight sites within the watershed have been developed for stream flow monitoring.  A staff gage is erected at each site, and periodically during runoff events, flow is measured using a flow meter. Using volunteers and District staff, daily water level measurements are recorded.  This process records the volume of water that passes through each monitoring site and the velocity of the water.  This information is extremely valuable for predicting flood events and also for modeling stream flows.  Eventually a rating curve will be developed for each site and a hydrologic flow model will be developed for the District. 
Since the inception of this monitoring program in 1996, the District has collected a significant amount of data and has been documenting how water moves through the intricate system of field ditches, road ditches, legal ditches, coulees, streams, river channels and other waterways from upstream to downstream. 
SURVEY
The Two Rivers Watershed District uses Trimble RTK GNSS equipment for maintenance and construction activities. RTK GNSS is a sub-centimeter accurate, global positioning system used to obtain precise elevations and positions on the landscape.

The District has set up a Ditch Maintenance Schedule to ensure each legal ditch system under TRWD jurisdiction is surveyed every 5 years. Ditch profiles, grades, and cross sections are determined and then compared to the original ditch design grade and cross section that was constructed. If the survey shows that significant sediment has accumulated, a contractor will be hired to clean out the ditch.
The District also provides survey assistance to landowners. District staff and GPS equipment are available for hire to private individuals to help solve water management issues or to help obtain permits from various agencies (DNR, County, etc.) requiring survey information. We have worked with landowners and the DNR on several projects to streamline the DNR permitting process on DNR designated "protected" watercourses.

During times of severe flooding, the District is active in surveying elevations relative to predicted flood stages. This is helpful in determining how high to build sandbag dikes, or helping to predict when roads will overtop. Please call the District if you are in need of elevation information during a flood! 
INFORMATION & EDUCATION
RIVER WATCH
The District participates in the River Watch program with local Schools and organizations to implement water quality monitoring on the North, Middle, and South Branches of the Two River.  This program provides real world, hands on experience for high school students with regard to water sampling, water chemistry, and aquatic biology.  Students collect water samples and then test them for nitrogen, dissolved oxygen, conductivity, pH, phosphorous, and other parameters.  This activity provides useful water quality data for the District and provides hands on experience for students.
ENVIROTHON: 
This outdoor, hands on, learning event for high schoolers is held either at Lake Bronson State Park or at the Agassiz National Wildlife Refuge.  Staff helped out with the planning, organization, and presentations at the event.  Schools participating included Kittson Central, Greenbush-Badger-Middle River, and Tri County, among others.
NEWSLETTER:
The District, in cooperation with Kittson Soil & Water Conservation District, publishes a newsletter four times per year.  This publication, The Northland Conservation News, is mailed to approximately 1,900 people in and around Kittson County.  Articles contained in the newsletter relate to District programs, activities, flood control, water quality and other water management and conservation issues.
FLOOD STATEMENTS:
During spring snowmelt and also during runoff events from summer storms, the District published and sent out a daily flood statement.  This document contained river stage and crest information collected from the stream flow and stream monitoring network.  The document was distributed to media, government agencies, and general public upon request.