Klondike Clean Water Retention Project #11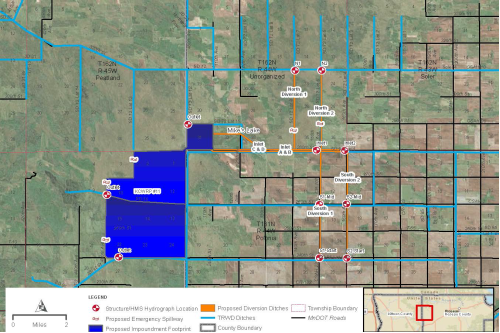 About Klondike Clean Water Retention Project #11
Description/Location: The 7,600 acre project is located 10 miles east of the City of Lake Bronson, MN and 4 miles north, covering nearly 12 square miles on the Kittson and Roseau County line. It is planned to have gated storage of 35,000 acre feet from a 143 mile upstream drainage area, including a 5 mile diked inlet channel, 7 miles of diversion channels, a 17 mile long dike, and an average dike height of 7 feet.
Project Benefits:
• Flood Damage Reduction (Primary Objective): Store 35,000 acre feet of floodwater and reduce downstream duration of flooding and peak flows; Provide an adequate outlet for Lateral 1 of State Ditch #95; Reduce Two Rivers contribution to the Red River flood by 20%.
• Water Quality: Large algal blooms currently occur on downstream Lake Bronson. This project will be designed to reduce phosphorous and nitrogen loading to the South Branch Two Rivers, thereby reducing the occurrence of algal blooms in the lake. In addition sediment loading to the lake will also be reduced.
• Stream Flow Augmentation: The South, Middle, and North Branches of the Two Rivers typically experience late summer and fall extreme low flows, and sometimes they even go dry. This has a detrimental stressor effect on the fish and other organisms. This project could be implemented to provide a source of stream flow during the times of low flow.
• Habitat Enhancement: The project area encompasses over 7,600 acres, most of which used to be farmland. Normal operation of the impoundment will be to flood the area during spring snowmelt and summer rains and slowly drain it down after flood peaks have passed. This will provide a large habitat block to enhance nesting areas and habitat for waterfowl. The site is adjacent to a 'rich fen', and therefore cessation of farming practices will help to protect the integrity of the nearby fen. A 'moist soils management' unit is being design in cooperation with MN DNR as an additional natural resource enhancement.
Problem Description:
• Flooding: Local – Flood flows originating in the Roseau River cross over into the Two Rivers Watershed, causing severe flooding. In addition, Lat 1SD95 has limited channel capacity and experiences break out flows that leave the ditch and flood overland, causing road and infrastructure damage, erosion and sedimentation, and extended duration of overland flooding. Downstream flood flows have threatened the dam and campgrounds at Lake Bronson State Park, and flood damages occur at the City of Hallock.

• Regional – Red River of the North flooding is a known problem, and this project will help to accomplish the regional goal of reducing flood flows by 20%. Other: Protect and enhance rich fen/prairie; provide habitat block for wildlife & ecosystem; reduce sediment and nutrient loads to Two Rivers.
Engeineer's Report:
For a copy of our engineer's report, click here.