Contact Us
The Board of Managers meets the first Wednesday of each month in the District office in Hallock, MN beginning at 8:00 a.m. Special meetings are held from time to time at the discretion of the Board. Advisory meetings are held at least once per year as required by law and otherwise as determined by the Board. All meetings are properly posted as required by law.
410 5th Street South
Suite 112
Hallock, MN 56728
(Lower Level, Kittson County Courthouse)

Telephone:

(218) 843-3333

Cell:

(218) 689-2023

Office Hours:

7:00 a.m. to 5:00 p.m, M – TH; 8:00 a.m. to 4:30 p.m. Fri
Meet our Staff!
Dan Money has been with the TRWD since 1991, and holds a Bachelor of Science degree in Aquatic Biology from Bemidji State University. He was born and raised in Kittson County, and resides in Hallock, MN. He is a member of the Red River Watershed Management Board and the NRCS Minnesota State Technical Committee. In addition to all administrative duties, he does water quality monitoring, project management, reporting, and planning. To contact Dan, please e-mail him at Dan.money@tworiverswd.com.
Employed at TRWD since 2010, graduate of University of Minnesota Crookston with a B.S in Natural Resource Management. Primary job responsibilities include performing topographic surveys, stream flow measurements and construction inspection. To contact Matt, please e-mail him at :matt.thompson@tworiverswd.com.
Meet our Board!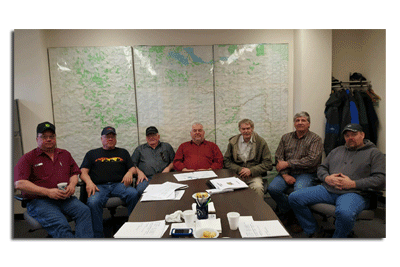 Scott Klein
1946 200th Street
Hallock, MN 56728
(218) 843-2752
Term Expires: October, 2020
Rick Sikorski
30825 110th Ave
Lancaster, MN 56735
(218) 762-2783
Term Expires: October 2021
Daryl Klegstad, Secretary
4151 210th St,
Halma, MN 56729
(218) 265-2073
Term Expires: October 2019
Paul Olsonawski, Treasurer
3762 285th Ave
Lancaster, MN 56735
(218) 762-1911
Term Expires: October 2019
Roger Anderson
1561 110th Street
Drayton, ND 58225
(218) 455-6269
Term Expires: October, 2021

Joel Muir
2339 250th Ave
Hallock, MN 56728
(218) 843-2080
Term Expires: October 2021

Bruce Anderson
18960 170th Ave
Greenbush, MN 56726
(218) 782-3147
Term Expires: October 2020